Rhonda's teaching online!
Rhonda is delivering online courses on the topics below and many more – visit the WEBINARS page on our site by clicking HERE. The page below lists the full Leadership Series that can be offered live or as online modules. We can customize shorter programs from this material for your group too. Please email or call our office at 250-575-7494 to discuss.
Conscious Leadership Certification
Are you looking for . . .
Fresh leadership tools, rooted in mindfulness, that you can apply right away, to address the challenges of delegation, performance management and reducing triggers?
An engaging classroom experience broken into half-day classes you can fit into each month with ease?
A leg up in your succession planning so you can leap to the next level? You'll finish the course certified as a Conscious Leader.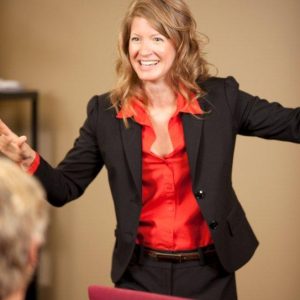 There will be a total of 18 connections through the year: 9 half-day classroom sessions plus 9 coaching-cohort meetings (lasting 60 minutes each with just 3 participants to maximize coaching time with Rhonda). Here is a brief description of the training modules of this Conscious Leadership Program. In each of the 9 modules we cover 2 topics. Programs can be customized to fewer than 9 modules if desired:
Essential Leadership Rituals
and
Coach Approach
Rituals of time management and delegation that ensure follow-through as you shift from the doer (or subject matter expert) to the leader. Coaching skills and potent questions to empower staff.
Emotional Intelligence (EQ)
and
Stress Management
Cultivate powerful, calm presence even when triggered by stress and change. Notice what's really going on within you and around you as a conscious leader. Hone an 'inner' focus and 'other' focus.
Employee Engagement
and
Strength-based Leadership 
Identify where staff fall in the cycle of engagement. Create a community of Vital Friends at work and ritualize face-time with staff. Build engagement with the work itself using Buckingham's strength-based approach.
Performance Management
and
Goal Setting
Set clear, consistent and fair expectations that grow weakness to competence + strength to excellence. Set SMART goals with staff. Create a feedback loop where you deliver and receive positive and constructive feedback with grace.
Critical Conversations
and
Workplace Drama 
The Green Balloon Model of communication: balance clear/direct with empathetic/curious. Initiate critical conversations (brave and uncomfortable) by stepping off the drama triangle and onto the empowerment triangle.
Conflict Competence
and
Dealing with Differences
The role assumptions play in conflict with staff, colleagues or customers. Deal effectively with differing (and difficult) personalities, inter-generational and intercultural differences. Build strong rapport through body language.
Leading Change
and
Effective Meetings 
The spectrum of Change-Resistors and Change-Champions. Deciding when and how to involve employees in change. How to lead effective meetings that people actually want to come to.
Negotiation vs Collaboration
and
Decision Making 
Negotiate up, down and side-to-side on the chain of command. Collaboration, trust and respect at work. High-performance decision making and consciously choosing a style that fits the situation.
Strategic Mindset
and
Presentation Skills
Develop an 'outer focus' as you secure time and space for strategy, organizational culture and mentorship. Present your ideas effectively to a group or 1-to-1 for maximum influence and engagement.
This program includes in-class practise of new skills, a robust tool-kit you take away and lively demonstrations to keep participants engaged. Rhonda will ensure you fully integrate the material, creating peer accountability and coaching opportunities in each module.
Coach time: Highly integrative thanks to the inclusion of coaching-cohort groups (3 participants in each) which increase the application of new skills, making it a sound investment.
Philosophy: Rooted in a leadership philosophy of mindfulness, self-awareness, and mutual respect to reflect the new business culture.
Designed in Canada for supervisors, managers, senior leaders or those in succession for leadership. The program content is customized based on the levels of experience in the classroom.
The practicality of the information that Rhonda provides is exceptional. 
Really enjoy Rhonda as our trainer: well spoken,
knows how to identify with people and bring out the best in them.
Always new tips and tricks that I have
never found in my studies or previous training.
She keeps us fully engaged without relying on PowerPoint!
It was such a good session!
Everyone was very engaged and shared a lot of examples.